Draw, brainstorm, and connect your physical rooms to your global teams
Although email has replaced snail mail, computers have replaced the typewriter, and the cell phone has freed us from wires, there's nothing that can completely replace the physical whiteboard…except an improved, virtual version of the original. Seamlessly integrated with your digital workplace, Prysm gives you an infinite whiteboard that you can use in the conference room, your home office, or in a taxi on the way to the airport. Even better, your team can see what you sketch — as well as edit or add to the contents — in real time, on any device.
Save it, share it, keep it secure.
Forget snapping barely legible cellphone photos of your whiteboard and emailing them to team members, who can do nothing but archive them. Now you can preserve the contents of multiple whiteboards (as many as you like) in cloud-based work spaces that are secure and accessible from anywhere.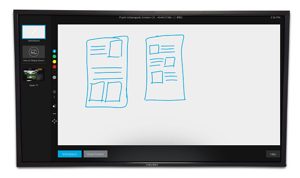 Every time you return to the workspace, your whiteboards are in the same positions you left them in. Designated team members can log on to the workspace to view and edit the contents (if you've given them permission…no more locked conference room doors!) whenever they like. If you'd rather distribute the contents via email, that's easy, too. Just take a snapshot and share directly from the whiteboard.
Use your finger or your pointing device.
Prysm's low touch latency means that using your finger to sketch on the screen feels as natural as a pen — no time lag. You can also draw with a mouse or other input device. What's more, you can change the color of the "ink," adjust the width of the virtual pen, and erase…just like you can with a physical whiteboard.
Put it to work on your display or ours.
Unlike some competing solutions, you don't need to buy a new display to use the Prysm whiteboard. Because the Prysm digital workplace is compatible with third-party displays (and works in any IT ecosystem), it's a flexible, economical solution that fits in any size room.
Never lose your flow.
In contrast to solutions like Google Jamboard, Prysm's virtual whiteboard is just a feature within our larger digital workplace platform. That means you don't need to switch applications if you're in the middle of a video conference or if you are displaying other content on the screen. You can continue to view live video, annotate documents, use sticky notes, or look at web pages at the same time. The whiteboard is displayed alongside your other content. However, you can also opt for the whiteboard on its own (with wireless device sharing as a bonus) with our Prysm Go solution.
Ready to try Prysm's digital whiteboard for yourself?
Schedule a demo.