Prysm changes the way teams work
Prysm's always-on visual collaboration keeps your team aligned, because every team member works with the same content from any device, anytime and anywhere. And you can extend your Prysm experience with Prysm for desktop, a Windows 10 desktop app that integrates with your existing workflows and applications while providing the speed, reliability, and ease of use that you expect from a desktop application.

You can get content into your projects faster with Prysm for desktop. Plus, you can share a local application or your entire display - no room system required!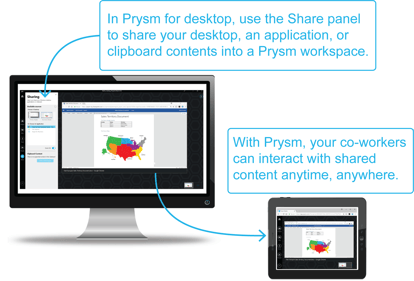 Application and desktop sharing
Share applications or your entire desktop with everyone in a Prysm workspace
One click to start and stop sharing

Multiple people can share at the same time without having to take turns
Easily import files and other content directly to Prysm
Import files using the familiar "send to" interface from Windows File Explorer

Copy items to the clipboard and share them in Prysm workspaces
Share workspace links to easily connect with others
Add workspace links directly into emails and meeting invitations
Workspace links bring others directly into your
workspace, so you can start collaborating more quickly
We have other apps too!
Prysm for Web | Prysm for iPhone | Prysm for Rooms