Share web browsing sessions with other workspace participants
One of Prysm's coolest new features has a name you might not yet have heard: co-browsing — short for "collaborative browsing." Co-browsing lets multiple people in disparate locations interact with the same web page/browser session simultaneously.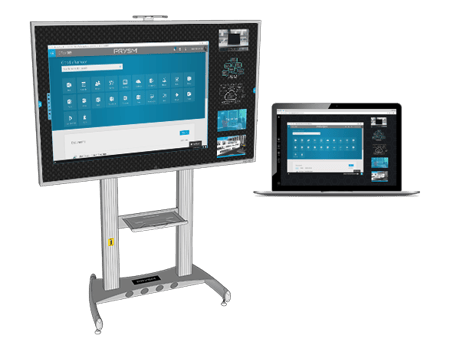 Here's how co-browsing works within the Prysm Application Suite:
All workspace participants have the exact same view of web content within a workspace, but the presenter sets permissions regarding how participants interact with the web browser by turning "Group Participation" on or off.
Presenters can enable co-browsing sessions from a meeting space display, or their desktop, laptop, or mobile device - regardless of location.
When a presenter leaves a workspace, the co-browser is no longer available to workspace participants, in order to protect their data. Participants will receive an alert if they try to interact with the co-browser. Once the presenter returns to the workspace, the co-browser will be reinstated and display the website was last accessed.
Why is this significant? Consider these example use cases:
In a team meeting with remote participants, you might want to take turns "driving" a web session. Imagine, for example, sharing Salesforce analytics with an executive who wants an overview of the current numbers. Many executives (depending on their roles) don't have their own Salesforce logins. The Salesforce admin or sales user could bring up a record or dashboard, then hand the reigns over to the exec to drill deeper into the data during the same session. There's no need for the executive to log in because the session has already been authenticated.


In a daily standup or bug-status meeting in an Agile development team, each participant can, in turn, go through their JIRA requests and review completed tasks, easily sharing the conversation thread surrounding the issue.


In a web-based product walkthrough, product managers or reviewers in different locations can get a hands-on demonstration of functionality.
And these examples are just a few ways this feature can be use.
For more information on how to use co-browsing (and all Prysm features) download the product sheets below: