Rethink your workspaces: It's time to get personal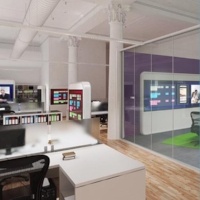 Companies worldwide are trying to create work environments that are customized to accommodate personal work styles and needs in order to attract and retain employees, as well as support optimal business outcomes. While some are re-designing the workplace based on the type of work that needs to be done -- from focused work, to ideation, to large presentations -- most are retro-fitting existing spaces, or are stuck trying to create transformational work environments within the same standardized spaces, with standard furniture, and basic technology.
Download the recorded webinar for an information packed hour with Prysm and CCOMM to learn how to best personalize workspaces no matter where your company is on its workplace transformation journey.
Attendees will learn:
How to identify where they are on a modern workplace maturity scale to successfully address various design options.
New design strategies to support personalized work styles, including the work environment, technology, and workflows.
How other companies have tackled workplace personalization with design and technology to drive business outcomes.