Experience Centers that Deliver Results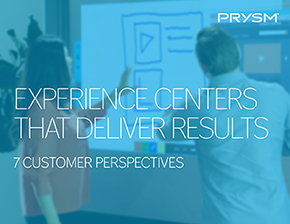 In high-value B2B sales, a customer experience center
plays a critical role in the conversion and close, which is why it
is rapidly becoming the forum of choice by marketing and sales
leaders to close deals and deepen key relationships.
This eBook distills the experiences and expertise of seven individual perspectives to provide a 360-degree set of insights and best practices critical to the creation of a world class facility. Each perspective also highlights how Prysm large format displays and visual collaboration software is leveraged to deliver each distinct objective.
If your company is designing an experience center, don't miss out on what these seven experience center stakeholders have to say.