Prysm's autumn release comes with a number of enhancements and exciting new features.
New: Simplified, More Secure Login
It's faster and easier to log in to Prysm with new secure identity-provider integration. Now administrators can configure the software to utilize existing login credentials for Okta, Ping, Google for Work, Salesforce.com, Microsoft Active Directory, or Windows Azure Active Directory.
Users enjoy the convenience of quickly logging in without having to remember yet another username and password. For admins, this functionality means fewer steps to onboard new users (just configure the chosen identity provider to work with Prysm and send the user an invite) and less time spent resetting passwords. Win win.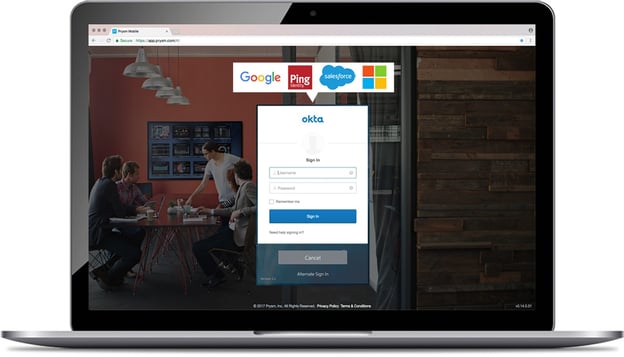 New: Video Conferencing and Skype for Business Access from the Welcome Screen
Quick and Easy Video Conferencing

Enjoy one-touch access to video calling with Cisco and Polycom — no need to log in first.

You can join a call immediately upon entering a conference room, using an intuitive interface that allows you to mute, view call status, and share content.

Built-In Skype for Business

Join a scheduled Skype for Business meeting directly from Prysm's welcome screen; no login required
Specify Prysm-powered rooms while scheduling in Microsoft Outlook, making it easy to see room availability
Get an at-a-glance view of scheduled meetings — including the start time for the next meeting — from the in-room welcome screen
Receive incoming calls or join a meeting in progress
New: User-Interface Enhancements
On-screen keyboard updates:
It's easier to enter email addresses, with the help of a new "@" symbol key

The keyboard stores your email address, so you can quickly enter it as a username on websites or other applications within the Prysm environment

Move or resize the keyboard using its border area, avoiding unintended keyboard movement while you're typing

Annotation toolbar improvements:
Choose the thickness of your pen strokes with a single button and convenient submenus

Select from among 12 colors via the a color wheel in the annotations toolbar

Ready To Get Started?
If you are a Prysm customer, contact us today at support@prysmsystem.com to determine your upgrade options.
New to Prysm? Contact us to schedule a demo today!