Product Highlights: Prysm LPD 6K Series Videocast
See how Prysm's LPD 6K video wall can make an impact for your brand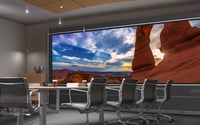 A video wall can be the ideal focal point for experience centers, premium conference rooms and digital signage, but choosing the right solution for your current and future needs can be daunting.
The bezel-free LPD 6K Series raises the bar on several video wall display standards, from fill factor to viewing angle, and versatility, making it a must see for companies looking to add large form-factor displays to their space.
In this video, see the live product in action and learn the key differentiators that make it stand out against similar LED and LCD solutions. You will also see examples of the LPD 6K Series for retail and collaboration use cases.
Not ready to watch the video? You can learn more about the LPD 6K Series here.